About
I developed this Android app during my first year at Southampton. It was the first Android app I fully developed and published, in fact I had only got my first Android phone (HTC Desire Z) just prior to coming to University.
I soon stopped developing it, as I moved on to writing leaflet-soton, and other web based applications.
Description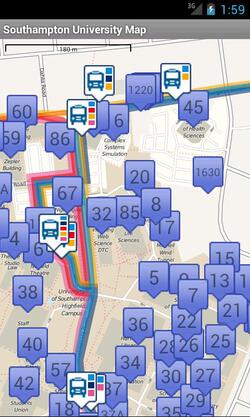 The Southampton University Map App will help you navigate around Southampton University, and Southampton in general.
You can search for University buildings, and look up live bus times for Uni-Link bus stops.
Personalise the app by switching off the bus stops and bus routes that are not relevant to you (via the View menu option), and place your most frequently used bus stops and buildings on a favorites list for quick and easy access (by holding down on there icons on the map).
Double tap a bus stop or building on the map to display information about it. When viewing a timetable, you can view the schedule for a bus by holding down the relevant row of the timetable.
If you want the map to show non Uni-Link bus stops, you can enable this from the Preferences activity. You can also enable non Uni-Link bus times from this activity.
Statistics
Current installations by device
Total installations by user
Source
The source code is contained in this Git repository.
Download
An apk can be downloaded.
Screenshots